One winner will be chosen at mid day on 23rd December 2023.
1. Prize: A gift voucher for either one day's trail riding experience in Mid Wales with a Honda CRF250L motorcycle insured for road use by an eligible rider, and a full set of enduro type protective rider clothing, or a three day guided tour for one rider on his/her own adventure bike. Accommodation is not included in either prize.
PLEASE NOTE THAT IF YOU ARE EXPERIENCED IN MOTOCROSS, ENDURO OR TRAIL RIDING ON AN ENDURO BIKE, the Honda CRF50L will not be suitable for you. However, please feel free to pass details of the competition on to any of your friends who are eligible, or to enter if you have an adventure bike and would choose the tour.
2. Eligibility for the trail riding day: Participants must be at least 25 years of age, must hold a full UK motorcycle licence which must be clean or with only minor endorsements and less than 9 penalty points. For clarification of which endorsements are prohibited, please contact [email protected] or phone 01686 430522.
3. Agreement to Rules: By participating, you agree to be fully unconditionally bound by these Rules, and you represent and warrant that you meet the eligibility requirements. In addition, you agree to accept the decisions of Trail Rides Wales as final and binding.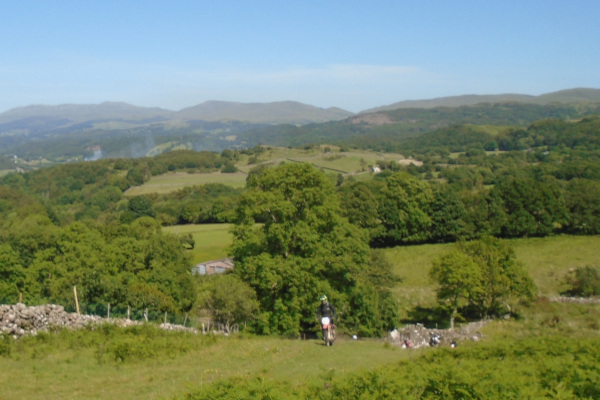 4. Entry Period: Entries will be accepted until midnight on 22nd December.
5. No cash or other prize substitution shall be permitted. Any expenses in travelling to Mid Wales and accommodation, if required, shall be borne by the winner.
6. Acceptance of prize constitutes permission for Trail Rides Wales to use the winner's name, likeness, and entry for purposes of advertising and trade without further compensation, unless prohibited by law.
7. Odds: The odds of winning depend on the number of eligible entries received. It is expected to be around 300, so your chance is reasonably good!
8. Winner Selection and Notification: Winner will be selected under the supervision of Trail Rides Wales. The winner will be notified by email on 23rd December. Trail Rides Wales shall have no liability for the winner''s failure to receive notices due to spam, junk email or other security settings or for winner's provision of incorrect or otherwise non-functioning contact information. If the first winner cannot be contacted, is ineligible, or fails to claim the prize within five days from the time award notification was sent, the prize may be forfeited and an alternate winner selected. This will continue until the winner acknowledges receipt of the prize.
9. Limitation of Liability: By entering, you agree to release and hold harmless Trail Rides Wales and its subsidiaries, affiliates, advertising and promotion agencies, partners, representatives, agents, successors, assigns, employees, officers, and directors from any liability, illness, injury, death, loss, litigation, claim, or damage that may occur, directly or indirectly, whether caused by negligence or not, from: (i) such entrant's participation in the Campaign and/or his/her acceptance, possession, use, or misuse of any prize or any portion thereof; (ii) technical failures of any kind, including but not limited to the malfunction of any computer, cable, network, hardware, or software, or other mechanical equipment; (iii) the unavailability or inaccessibility of any transmissions, telephone, or Internet service; (iv) unauthorized human intervention in any part of the entry process or the Promotion; (v) electronic or human error in the administration of the promotion or the processing of entries.
10. Privacy Policy: names, email addresses and Facebook contacts (where given) will be retained by Trail Rides Wales. Trail Rides Wales will communicate directly using these email addresses. This information will not be supplied to any third party, except when the competition is run in conjunction with a partner such as another trail riding organisation or an accommodation provider. This information will be stored in a secure format preventing unauthorised access.
11. Facebook: The competition hosted by Trail Rides Wales and is in no way sponsored, endorsed, administered by, or associated with Facebook.