High Wales Tour
We introduced adventure bike tours visiting the ten highest roads in Wales during the summer of 2021, and they have proved to be very enjoyable! We now offer a several different ones, and are working on a "Castles" one. If you do not have your own adventure bike, you may hire one of our Honda CRF250Ls. Most popular are the three day tours, with a choice of route, although we offer two, four and five days too. You may be surprised to learn that riders on the Honda 250Ls, 300Ls and Rallys find the tour less tiring than riders on bigger adventures bikes because we do a lot of narrow minor roads. Here is pdf leaflet.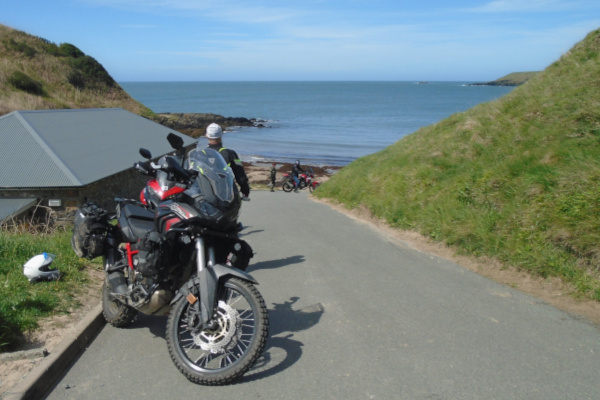 Our all tarmac tour is aimed at owners with GS1200s, Guzzi Stelvios, Multistradas, V-Stroms, Crossrunners, etc. Riders on smaller bikes who prefer to stay on tarmac are welcome to join this tour. There are some tricky hairpin corners and bendy narrow steep hills up and down which some riders with short legs and big bikes struggled with, so please be aware of this. The big bike green road option includes gravel and grass if the weather is dry.
The Green Road route is mainly for middle and lightweight adventure bikes. It includes several gravel and grass roads, as well as a lot of single width lanes where the tarmac is in poor condition. This tour is suitable for novice trail riders on lightweight bikes such as Honda CRF250 or 300L and Rally, and more experienced trail riders who are happy to take bigger bikes such as KTM Adventure, Yamaha Tenere, Africa Twin and GS310, etc, on gravel, rock steps and rougher surfaces, some of which may have some surface mud.
For experienced trail riders we do not run a really technical long distance tour, but our friends Craig and Tamsin do! Their Coast to Coast tour is a real adventure for experienced trail riders. Please see their website Black Desert Training.