Trail Riding
Our trail riding days take place in Mid Wales and south Snowdonia. We use unclassified roads and byways open to all traffic which do not have a tarmac surface. They are often described as "green roads" or green lanes. These are historic routes which were never tarmacked or where the tarmac has not been maintained.
Surfaces are gravel, rock, grass and mud, and the riding varies from easy to extremely technical. Unless it has been unusually dry, we ford streams and splash through plenty of puddles. Whenever possible, we use minor single track lanes instead of main roads to ride from one green road to another, and these can be nearly as interesting as the green roads! We go high over mountains with fantastic views, drop down into wooded valleys and ride beside the many lakes and reservoirs in the area.
Trail and adventure bike tours
Our tours visit north and south Wales. They start in Mid or South Wales, and we have several options. All visit the highest roads at more than 500 metres, which give wonderful scenic views (when not raining!) More information about tours.
Mid Wales - the forgotten area!
Our area is in the Cambrian Mountains and the UNESCO Dyfi Biosphere. On clear days we can see Snowdon, Plynlimon and Cader Idris, the three highest mountains in Wales. We see many birds including red kites and buzzards, and occasionally wildlife such as weasels, stoats, foxes, wild goats and deer. We do see lots of sheep, but not many people! Trail riding is more than just about the riding – it is a great day out in the countryside. We are responsible users, and actively work to promote good relationships with the Snowdonia Access Officers, Council Highways Officers and many of the farmers and landowners.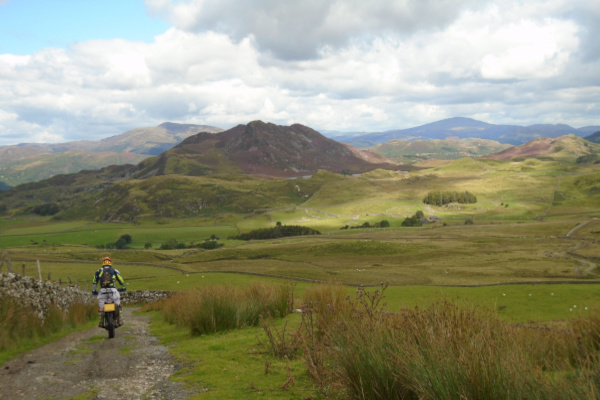 If you are interested in star-gazing, you can combine your trail riding day with an interesting evening, as long as the famous Welsh rain holds off! Many of our accommodation providers are in or near the Dark Skies Astro Trail.